One of the great challenges for employers is to find the right talent—people who are aligned with their values, capable of increasing their skill-level and thus take part in company development. This is even more important for startups who are slated to scale, growing exponentially in terms of revenue and staff, within months.
Here is the Agily approach to identifying and retaining high-potential staff:
High-growth companies like Agily benefit from working with profiles capable of evolving in a professional environment that is subject to constant transformation and change. This thirst for evolution needs to be identified and nourished, which is why curiosity is a core value at Agily. Curious people are willing and able to learn and are capable and delighted to strengthen their knowledge and will often bring a new perspective to subjects.
Continual improvement, when the personal is professional.
To nourish this continued learning, Agily has taken concrete measures to encourage this desire for self-improvement. One example is a competency-based salary scale, which becomes a source of motivation to acquire new skills and increase one's salary. You can read more about that here.
Beyond the technical skills mentioned on a candidate's CV, Agily also pays great attention to soft skills. A company is a human adventure and it is essential to work in a good atmosphere. Listening, empathy, humility and the ability to question oneself are fundamental elements to gaining leadership and rising to the top management. These soft skills are often most appreciated by high potential profiles who might have a-typical work and life experience.
T-shaped skills
Transversal skills, often called "t-shaped skills" are a distinguishing feature of these "scalable" profiles. Defined as having a range of interests and experiences, thus versatile, they are also an expert in one particular field. The benefit ? These profiles have broad enough general knowledge to create synergies and innovate.
This ability to adapt to work alongside different types of profiles, ensures they can manage projects with multidisciplinary teams. They can, for example, work with developers as well as with a marketing team or business development. This great flexibility is a real added value for the evolution of the company. Their open-mindedness enhances efficiency and productivity, and above all allows them to unearth new business opportunities.
In the tech sector, where everything moves at high speed, it seems essential to surround yourself with agile profiles, capable of having a strategic vision to help the company take the right turns, the right decisions, and above all at the right time.
But how do you find such nuggets ?
Olivia, Agily's COO, is such a profile —curious, highly empathic and a fast learner, stood out from the crowd as soon as she arrived. In parallel to her studies, she had already founded her own startup, a platform dedicated to football, one of her passions. This side project had already established many skills to be comfortable in her missions and to go beyond expectations.
Autonomous and highly organized, her entrepreneurial background has become a real strength at Agily. Olivia also makes a difference thanks to her business vision which is beneficial for the development of the company. Agily's founders are very fond of employees who suggest new ideas and ways of doing things.
Leadership in learning
How do you manage these promising young talents? At Agily, the manager takes on the role of mentor, helping them to surpass themselves and take on even more responsibility. In addition to the formal annual interview which allows for a global review of career prospects, the manager also carries out regular one-to-one meetings with each employee.
During these privileged moments, feedback is gathered from the employee and manager, areas for improvement are identified as well as development prospects.
Agily invests a lot in the training of its employees. On average, employees go on training at least twice a year. And even more for the tech and design profiles where everything goes very fast.
Agily Academy
In addition to the specific needs of each employee, every Thursday employees take part in the Agily Academy, an internal event during which an employee shares his expertise with his colleagues. This type of intervention allows employees to show their leadership and above all to share collective knowledge. It is also a precious moment to create synergies between the different professions.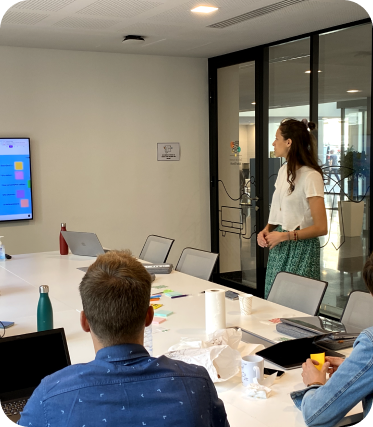 For Agily, engaging in talent development is an investment in business development. "Transparency around strategic skills needs can help employees maintain their own employability and focus their training efforts on the skills that drive business growth, says the Global Talent Trends, 2022 study, published by Mercer.
Identifying and nurturing promising profiles is essential for the growth of the company. At Agily, we rely on curious individuals who are able to learn quickly and share their knowledge with others. Our managers take on the role of mentors to help these employees excel. If you're looking for a company that values talents and cultivate creativity, Agily might be the place for you.